In these exceptional circumstances,
what we do matters more than ever
Since the pandemic began, Grifols has made its expertise in plasma available to health authorities, governments, regulatory agencies, and society in general. At Grifols, we believe this current and extraordinary situation requires healthcare companies like ours to strive further to serve patients and society.
For over a century, Grifols has been a healthcare company at the vanguard of blood- and plasma-therapy development, with the aim of enhancing people's health and well-being.
At the forefront of clinical trials to create treatments, as well as screening tests, to mitigate the global COVID-19 pandemic
At Grifols, we believe in the therapeutic potential of human plasma and its components. During this unprecedented health crisis, plasma from patients who have recovered from COVID-19, called convalescent plasma, has been identified as a therapeutic option that can potentially help combat the disease.
This plasma from recovered COVID-19 donors contains antibodies which are specific against SARS-CoV-2, the virus that causes COVID-19. These antibodies are proteins called immunoglobulins, which may help the body fight this infectious disease.
Convalescent plasma is currently being investigated to be used:
For direct transfusion.
To develop a medicine, a hyperimmune globulin.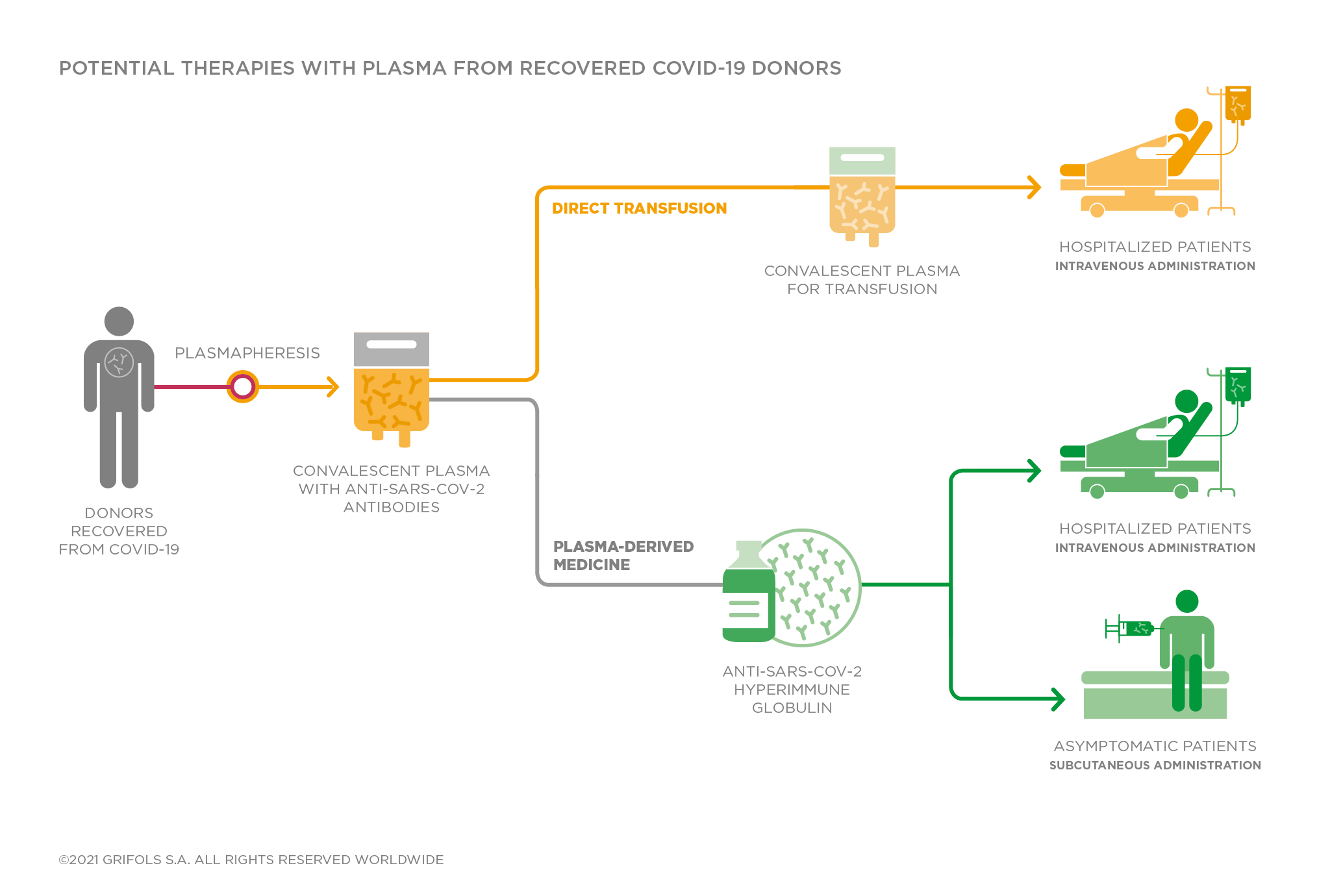 Anti-SARS-CoV-2 hyperimmune globulin
Grifols has been applying its broad knowledge and deep expertise in producing immunoglobulins to manufacture a specific anti-SARS-CoV-2 hyperimmune globulin to combat two different stages of COVID-19 disease: hospitalized patients and asymptomatic outpatients.
The clinical trial evaluating the safety, efficacy and tolerability of the intravenously administered anti-SARS-CoV-2 hyperimmune globulin in hospitalized patients started in October 2020. It's the first international multicenter clinical trial of an immunoglobulin containing anti-SARS-CoV-2 polyclonal antibodies from plasma donors who have recovered from the illness. The trial, which will include 500 hospitalized adults with COVID-19 in up to 58 hospitals covering 18 countries, is sponsored and funded by the National Institute of Allergy and Infectious Diseases (NIAID), part of the U.S. National Institutes of Health (NIH).
In February, a study will start in Spain with 800 asymptomatic SARS-CoV-2-positive patients who will receive the immunoglobulin subcutaneously on an outpatient basis. This trial will be led by the researchers Oriol Mitjà and Bonaventura Clotet from Germans Trias i Pujol Hospital in Badalona (Barcelona).
Helping our donors provide their valuable plasma
Grifols is collecting plasma from recovered COVID-19 patients using its network of more than 300 donor centers in the U.S. and Germany, the largest global network of donation centers in the world. Our experienced technicians are specially trained and prepared to help our donors, whose generous and compassionate contributions enable us to develop potential treatments. Grifols is also collecting convalescent plasma in Spain through a collaboration with blood banks.
We're also proud to be part of a coalition of world-class medical and research institutions, blood centers, life-science companies, philanthropic organizations and COVID-19 survivor groups that has come together to mobilize tens of thousands of people in the United States who have recovered from COVID-19 to donate their plasma. Visit TheFightIsInUs.org.
COVID-19
Potential COVID-19 Plasma Therapies in Clinical Trials
Trialing an anti-SARS-CoV-2 hyperimmune globulin and convalescent plasma as a direct transfusion therapy, and evaluating the potential efficacy of currently available plasma-derived therapies.
COVID-19 Diagnostic and Screening Tests
Enabling the detection of the novel coronavirus SARS-CoV-2 through diagnostic and screening tests.
Research
Supporting external research, such as GigaGen's, recombinant polyclonal antibodies therapy or the initiative led by the Catalan consortium –including IrsiCaixa, Barcelona Supercomputing Center (BSC) and the Animal Health Research Center (CReSA) at the Institute for Food and Agricultural Research and Technology (IRTA)– to discover vaccine prototypes and antibody therapeutics for SARS-CoV-2.
Community Support
Organizing food drives to aid communities and providing donations of personal protection equipment to the areas most impacted by the pandemic. In addition, technical and logistical support to hospitals for the storage, preparation and dispensing of medicines, as well as the refurbishment and expansion of facilities to treat COVID-19 patients.
COVID-19
COVID-19 in the Media
Up-to-date Press Releases, News, Statements and Media Coverage throughout the COVID-19 pandemic.
Content: hcp-products-popup
Content: cookie-management