GRIFOLS FACING THE COVID-19 CHALLENGE
In these exceptional circumstances,
what we do is more important than ever
Steadfast in its commitment to improve the health and well-being of people, especially during these exceptional times when our work takes on added significance, Grifols continues driving various initiatives on the detection and treatment of COVID-19.
Grifols has developed molecular and immunological diagnostic tests for the diagnosis and screening of COVID-19 to facilitate early detection of the infection. The highly sensitive molecular test is based on TMA (transcription-mediated amplification) technology and is capable of detecting the genetic material of the SARS-CoV-2 coronavirus. Immunological tests, meanwhile, identify antibodies for the diagnosis of COVID-19.
Grifols' experience in the development of plasma treatments are enabling the company to lead or participate in more than 20 international research initiatives to find potential treatment options for different stages of COVID-19, including a multifaceted approach on early phases of the disease to halt its progression. In this area Grifols is involved in clinical trials testing anti-SARS-CoV-2 hyperimmune globulins, convalescent plasma and other plasma-derived therapies already marketed for other indications.
Anti-SARS-CoV-2 hyperimmune globulin
Grifols will evaluate the safety, tolerability and efficacy of an anti-SARS-CoV-2 hyperimmune globulin as a potential treatment for early-stage COVID-19, including an international study in collaboration with the U.S. National Institute of Allergy and Infectious Diseases (NIAID) and the National Institutes of Health (NIH). This immunoglobulin, manufactured from the plasma of people who have recovered from COVID-19, contains neutralizing polyclonal antibodies against the virus.
Anti-SARS-CoV-2 Hyperimmune Globulin
A medicine based on plasma from recovered COVID-19 donors is being investigated as a potential treatment for COVID-19.
Similarly, Grifols subsidiary GigaGen is analyzing the efficacy of a recombinant hyperimmune globulin as a potential treatment for COVID-19. It recently received approval as an Investigational New Drug (IND) by the U.S. Food and Drug Administration (FDA) for the initiation of a Phase 1 clinical trial in the U.S., expected to begin in spring 2021.
Convalescent plasma
Grifols is participating in a clinical trial in Spain with convalescent plasma from recovered COVID-19 donors for direct transfusion. The trial evaluates its safety and efficacy as potential early treatment in non-hospitalized mild or moderate COVID-19 patients.
Existing plasma-derived therapies: alpha-1 antitrypsin, immunoglobulins and antithrombin III
Grifols is conducting clinical trials on the impact of plasma-derived medicines already used for other medical conditions such as alpha-1 antitrypsin, immunoglobulins and antithrombin III on COVID-19 patients to mitigate the effects of the coronavirus. The trials evaluate the efficacy of the treatments in reducing inflammation and respiratory distress in hospitalized patients with different disease progression, including those requiring intensive care.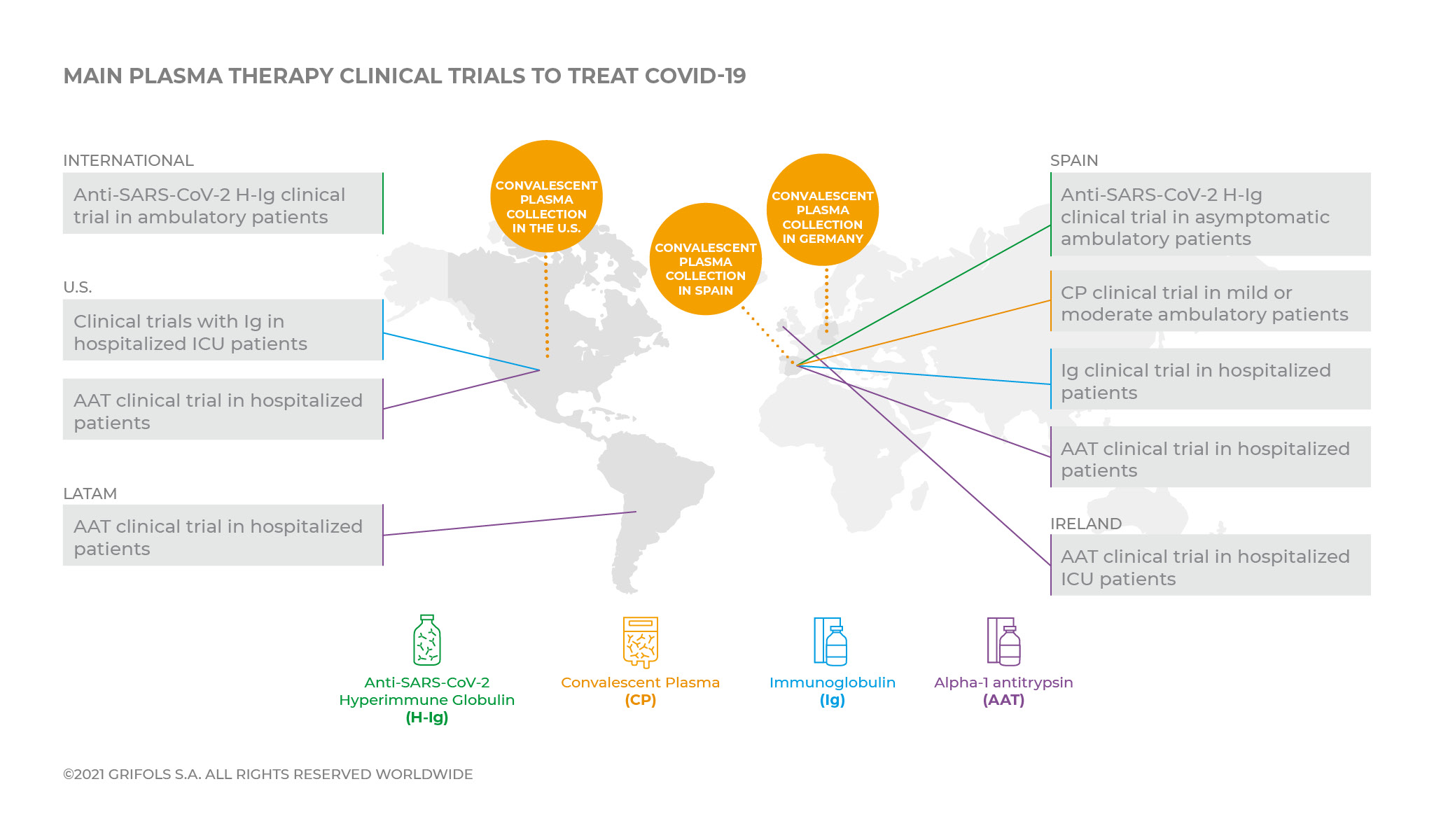 In addition to the projects it leads, Grifols supports various external research programs as well. This includes collaboration with the consortium IrsiCaixa, Barcelona Supercomputing Center (BSC) and the Institute of Agri-Food Research and Technology (IRTA-CReSA) on the identification of prototype vaccines and antibody therapies for SARS-CoV-2.
Content: config-popups
Content: hcp-products-popup
Content: cookie-management