The AMBAR study
AMBAR is an international, multicenter, randomized, double-blind, placebo-controlled, with parallel assignment clinical trial that enrolled patients with mild and moderate Alzheimer's from 41 treatment centers in Spain and the United States.
AMBAR was designed to evaluate whether the progression of Alzheimer's could be stabilized through therapeutic plasma exchange, a process that entails extracting plasma periodically and infusing a specific albumin solution (Albutein®) with or without intravenous immunoglobulin (Flebogamma DIF®).
AMBAR targets a multimodal approach to the management of the disease based on the hypothesis that most of the amyloid-beta protein – one of the proteins accumulated in the brains of Alzheimer's patients–is bound to albumin and circulates in plasma. Extracting this plasma may flush amyloid-beta peptide from the brain into the plasma, thus potentially limiting the disease's impact on the patient's cognitive functions. Additionally, albumin has binding capacity and antioxidant properties, and both albumin and immunoglobulin display immunomodulatory and anti-inflammatory properties.
The trial, which was designed by Grifols in collaboration with Fundació ACE in Barcelona, Spain, and the Alzheimer Disease Research Center in Pittsburgh, PA, USA, aimed to evaluate the efficacy and safety of plasma exchange with infusion of albumin combined with intravenous immunoglobulin in patients with mild and moderate Alzheimer's disease.
The AMBAR study included 496 patients with mild and moderate Alzheimer disease, 55-85 years-old, who were randomized in three clinical trial treatment groups and one control (placebo) group. The clinical trial lasted for 14 months and was split into two phases: an initial phase common to all patients, followed by a second phase in which different volumes and concentrations of albumin were administered to different groups. In some cases, the albumin was alternated with intravenous immunoglobulin to correct a possible endogenous immunoglobulin decrease. The plasma exchange in the placebo-controlled group was simulated in both phases. The study was double-blind, that is, neither patients nor evaluators knew who was receiving treatment or placebo.
The primary objective of the study was to evaluate the efficacy of AMBAR protocol by measuring variations in the patients' cognitive function and ability to carry out daily activities, using specific neuropsychological scales. Additionally, data for secondary endpoints (complementary neuropsychological tests, biomarkers and neuroimaging data) were collected to support the evaluation of AMBAR protocol in patients with mild-to-moderate Alzheimer's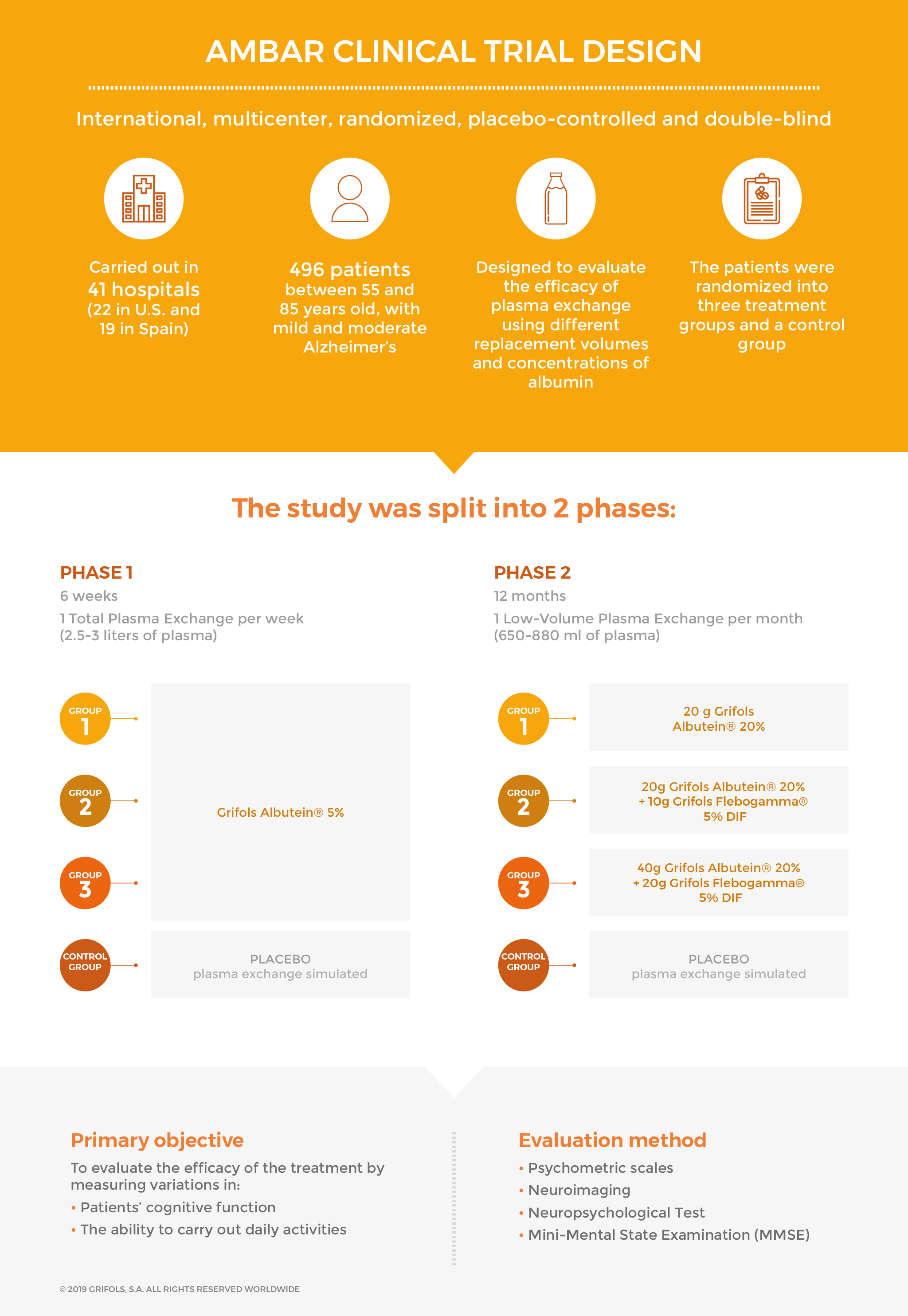 Clinical study design
This video explains the characteristics of the study and how the clinical trial was carried out.
496


patients with Alzheimer's
41


hospitals
22 in the USA & 19 in Spain
496


patients with Alzheimer's
41


hospitals
22 in the USA & 19 in Spain
Content: hcp-products-popup
Content: cookie-management