Four divisions, one Grifols
Grifols has four business divisions united by a shared commitment to quality, safety and ongoing innovation: Bioscience, Diagnostic, Hospital and Bio Supplies.
Our consolidated and complementary core business units develop, produce and market innovative products and services in over 100 countries or regions.
Grifols Engineering
As a result of continuous innovation since the foundation of Grifols in 1909, today our manufacturing facilities set industry standards.
Our facilities are designed and built by Grifols Engineering, drawing on the experience acquired in the development of machinery, equipment and complex manufacturing facilities for the pharmaceutical industry.
This unit also offers its engineering services to the biotechnology sector.
Global map
We have 13 industrial state-of-the-art facilities in six countries that provide us with the capacity and flexibility to satisfy a growing demand for our products.
The Bioscience Division carries out the fractionation and purification processes in its manufacturing plants in the US (Clayton, North Carolina and Los Angeles, California) and Spain (Barcelona). At present, the company has a fractionation capacity of 14.8 million liters of plasma per year. Two Grifols-owned state-of-the-art facilities in the US (Austin and San Marcos, Texas) perform the plasma tests.
The Diagnostic Division has production centers in the US (Emeryville and San Diego, California), Spain (Barcelona, Bilbao and Murcia), Switzerland (Düdingen), Australia (Melbourne) and Brazil (Campo Largo).
The Hospital Division carries out its production in Spain (Barcelona, San Sebastián and Murcia) and in the US (Denver, Colorado).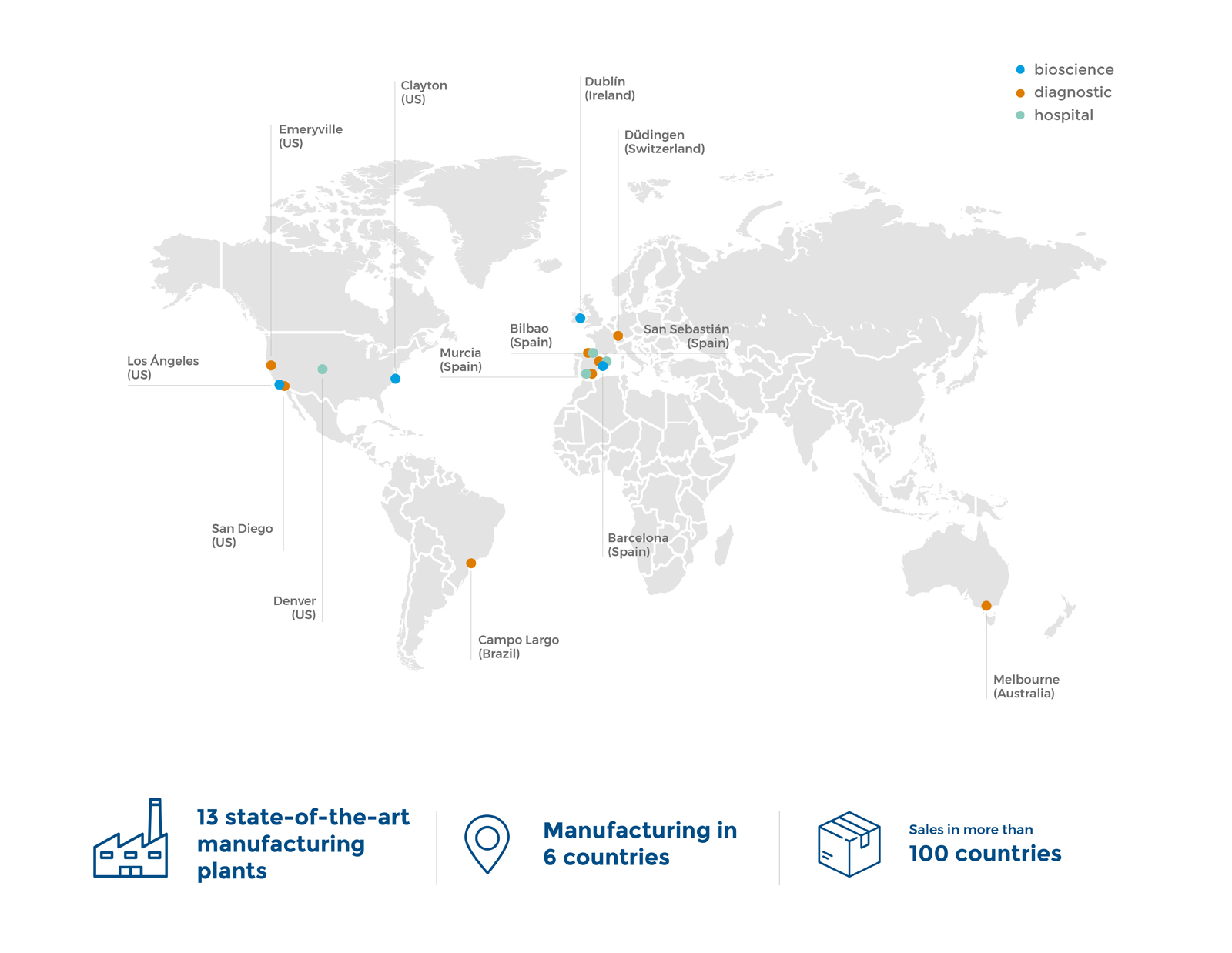 Content: grifols-welcome-popup
Discover our new corporate site
Do you want to know more about one of the leading healthcare companies? Here you will find all the information about Grifols and our commitment to improving the health and well-being of people around world.