INTERNATIONAL HEADQUARTERS
Grifols France
Grifols France was established in 1999 based in Paris as legal office and in Meyreuil as operative office. We cover the French market.
We offer a comprehensive portfolio of products and services from the Bioscience and Diagnostic divisions. Safety and quality are our top priorities as we deliver on our mission: improving the health and well-being of people around the world.
Head office
24 rue de Prony,
75017 PARIS
FRANCE
Contact information
Tel: + 33 1 53 53 08 70
Fax: + 33 1 53 76 39 06
Secondary office
Arteparc, Bât. D
Route de la Côte d'Azur
13590 MEYREUIL
FRANCE
Contact information
Tel: +33 4 42 54 44 00
Fax: +33 4 42 53 37 63
Mail: france@grifols.com
Contact Us
Thank you for contacting us. We will reply as soon as possible.
ACCEPT
Thank you for your interest in learning more about our company. We care about your questions and concerns and we will reply you as soon as possible. Please complete all required fields as this will enable us to process your request more efficiently. The company identified in this section is the data controller and will process your personal data based on your consent as expressed in this form. You can exercise your rights of access, rectification, erasure and other data protection rights and obtain additional information on how your personal data is processed in the Privacy Policy
Pharmacovigilance et information médicale
Pour déclarer un évènement indésirable survenu ou pour une demande d'information médicale, vous pouvez nous contacter par courriel : infomed.gf@grifols.com
ou par téléphone : + 33 (0)1 53 53 08 70
ou par fax : + 33 (0)1 53 76 39 06
Vous pouvez également signaler aux Autorités sanitaires tout événement indésirable sur le site de l'ANSM (www.ansm.sante.fr).

Ethique et responsabilités
Charte de l'information promotionnelle des medicaments
Cette activité fait l'objet d'une certification par la société Bureau Veritas au regard du référentiel de certification en vigueur publié par la HAS.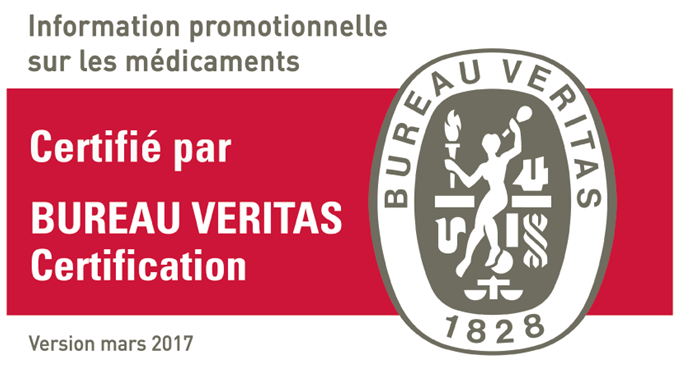 La politique qualité en matière d'information promotionnelle s'inscrit dans notre démarche qualité globale. Elle est diffusée à tous les collaborateurs concernés de Grifols France.
Grifols France a pour mission de délivrer une information de qualité sur les médicaments présentés, dans le respect notamment de leur Autorisation de Mise sur le Marché et de promouvoir leur bon usage auprès des professionnels de santé.
Si vous souhaitez transmettre une observation sur la qualité de l'information promotionnelle, veuillez vous adresser à notre pharmacien responsable par mail : qualitevm@grifols.com.
Transparence
La loi du 29 décembre 2011 relative au renforcement de la sécurité sanitaire, complétée par son décret d'application du 21 mai 2013, a généré de nouvelles obligations concernant la publication des liens d'intérêt entre les professionnels de santé et toute entreprise produisant ou commercialisant des produits de santé.
Dans ce cadre, Grifols France rend publique l'existence des conventions (ou contrats) conclues avec les catégories de professionnels visées par la loi, ainsi que le montant des avantages en nature ou en espèces et des rémunérations d'un montant supérieur ou égal à 10 euros TTC (toutes taxes comprises) procurés directement ou indirectement aux professionnels de santé concernés.
Ainsi, les données relatives aux trois catégories de liens d'intérêts (conventions, avantages et rémunérations) ont été publiées en ligne, jusqu'à présent à l'adresse sur le site public unique du ministère de la santé : https://www.transparence.sante.gouv.fr