INTERNATIONAL HEADQUARTERS
Select your country or region
Europe
Africa
America
Asia
Europe
Oceania
Select your country / region
France
Andorra
Austria
Czech Republic
Denmark
Finland
France
Germany
Gibraltar
Iceland
Ireland
Italy
Norway
Poland
Portugal
San Marino
Slovak Republic
Spain
Spain (Headquarters)
Sweden
Switzerland
United Kingdom
Vaticano
Select your country / region
Argentina
Aruba
Bolivia
Brazil
Canada
Chile
Colombia
Costa Rica
Curacao
Dominican Republic
Ecuador
El Salvador
Guatemala
Honduras
Mexico
Nicaragua
Panama
Paraguay
Peru
Surinam
Trinidad and Tobago
USA
Uruguay
Venezuela
Select your country / region
Bahrain
Bangladesh
Brunei
Cambodia
China
Dubai (United Arab Emirates)
Hong Kong SAR
India
Indonesia
Iraq
Japan
Jordan
Kuwait
Laos
Lebanon
Malaysia
Oman
Pakistan
Philippines
Qatar
Saudi Arabia
Singapore (Asia Pacific)
South Korea
Sri Lanka
Taiwan, China
Thailand
Vietnam
Yemen
Select your country / region
Angola
Cape Verde
Egypt
Guinea-Bissau
Mozambique
São Tomé and Príncipe
Grifols France
Last update: March 2021
Grifols France was established in 1999. Based in Paris (legal office) and Marseille (operative office), we cover the French market.
We offer a comprehensive portfolio of products and services from the Bioscience, Diagnostic, Hospital and Bio Supplies divisions. Safety and quality are our top priorities as we deliver on our mission to improve the health and well-being of people around the world.
Grifols France
Grifols France is certified ISO 9001: 2015 since May 2017. Grifols France is a pharmaceutical company operating since September 1, 2018
Grifols France Headquarters
24 rue de Prony,
75017 Paris
FRANCE
Contact information
Tel: + 33 153530870
Fax: + 33 153763906
Notification of adverse reactions
To report an adverse drug reaction click here
Pour déclarer un effet indésirable, cliquez ici
Division Bioscience
En conformité avec l'article L.5121-1-3 du code de la santé publique, ci-après la liste des médicaments avec leurs principes actifs, dont Grifols France est l'exploitant:
Spécialité Grifols

DCI

Classe pharmacothérapeutique

Flebogamma DIF 50 mg/ml solution pour perfusion

Immunoglobuline humaine normale (IgIV)

Immunsérums et immunoglobulines: immunoglobulines humaines normales, pour administration intravasculaire

Flebogamma DIF 100 mg/ml solution pour perfusion

GAMUNEX 100 mg/mL, solution pour perfusion

Immunoglobuline humaine normale (IgIV)

Antisérums et immunoglobulines: immunoglobulines humaines normales, pour administration intravasculaire

PROLASTIN 1000 mg, poudre et solvant pour solution injectable / perfusion

alpha-1 antitrypsine humaine

inhibiteur de protéase, alpha-1 antitrypsine humaine
Les Résumés des Caractéristiques des Produits, les notices et avis de transparence de ces spécialités sont disponibles via le lien suivant (base de données publique des médicaments): http://base-donnees-publique.medicaments.gouv.fr
Division Diagnostic
Grifols France distribue des dispositifs médicaux et des dispositifs médicaux de diagnostic in vitro tels que des réactifs, tests, automates et logiciels destinés aux laboratoires, hôpitaux et centres de transfusion dans les secteurs de l'immunohématologie, de la virologie transfusionnelle (Dépistage Génomique Viral), et de l'immunoanalyse (Monitoring de Biothérapies). Pour connaitre la gamme de produits disponible, veuillez visiter le site Web Diagnostic www.diagnostic.grifols.com
Information médicale
Pour une demande d'information médicale, vous pouvez nous contacter à l'adresse mail suivante :
Infomed.gf@grifols.com
ou par téléphone : + 33 (0)1 53 53 08 70
ou par fax : + 33 (0)1 53 76 39 06
Ethique et responsabilités
Charte de l'information promotionnelle des medicaments
La politique qualité en matière d'information promotionnelle s'inscrit dans notre démarche qualité globale. Elle est diffusée à tous les collaborateurs concernés de Grifols France.
Grifols France a pour mission de délivrer une information de qualité sur les médicaments présentés, dans le respect notamment de leur Autorisation de Mise sur le Marché et de promouvoir leur bon usage auprès des professionnels de santé.
Si vous souhaitez transmettre une observation sur la qualité de l'information promotionnelle, veuillez vous adresser à notre pharmacien responsable par mail : qualitevm@grifols.com.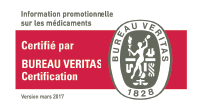 Transparence
La loi du 29 décembre 2011 relative au renforcement de la sécurité sanitaire, complétée par son décret d'application du 21 mai 2013, a généré de nouvelles obligations concernant la publication des liens d'intérêt entre les professionnels de santé et toute entreprise produisant ou commercialisant des produits de santé.
Dans ce cadre, Grifols France rend publique l'existence des conventions (ou contrats) conclues avec les catégories de professionnels visées par la loi, ainsi que le montant des avantages en nature ou en espèces et des rémunérations d'un montant supérieur ou égal à 10 euros TTC (toutes taxes comprises) procurés directement ou indirectement aux professionnels de santé concernés.
Ainsi, les données relatives aux trois catégories de liens d'intérêts (conventions, avantages et rémunérations) ont été publiées en ligne, jusqu'à présent à l'adresse sur le site public unique du ministère de la santé : https://www.transparence.sante.gouv.fr
Content: hcp-products-popup
Content: cookie-management